BTi News & Press
2017 - NAB Convention
-- Another successful showing at NAB where BTi revealed Facebook Live through ENGAGE and Schedule Assets where stations can monetize their tickers.
********************************************
2016 - NAB Convention -- LOOK WHAT'S NEW from BTi !! N4913
New, Engage, A Revolutionary New Display Device, fully integrated with BTI Graphics.. "Do things that no other CG can do !" "A Must See"
New, Elections, Elections, Elections, with Mobile Elections, News, Sports, Weather, TTS, Software...on Virtual Servers !
2016....BTI adds many New Stations and New Data Services in 2014 and 2015 and now, even more in 2016, for this years Elections! C-SPAN, many more at CBS O&O's, All of Graham Group, and Berkshire, many more of the Tribune, Meredith, Tegna/Belo, Media General, Lin, Young, Hubbard, Dispatch, ABC O&O's, Morgan, Lilly, Schurz, All of WV Media, and more...We are in all major Groups and Markets in the USA. Cox, Scripps, Sinclair, Gray, Nexstar, many others.....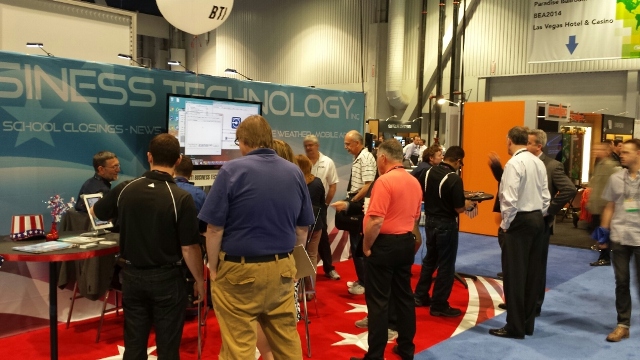 2015 - NAB Convention -- LOOK WHAT'S NEW from BTi !!
New TTS Text to Speech under $4,000.00
New Engage CG (Mac Mini), under $20,000.00
New Mobile Election, News Sports Weather Software
New Visual Oriented Tool Software for Engage, Weather, Closings, Breaking, Automated Data Tickers

Thanks to all who came to see us at NAB 2015!



********************************************



2014 - NAB Convention -- LOOK WHAT'S NEW from BTi !! Our Biggest year Ever !

Google Glass Reporter unveiled by BTi and Interapt - April 7, 2014

BTi brings NEW Economical Election MAC MAP Apps to NAB

BTi and Interapt showcase News Desk Tracker at NAB 2014

BTi Demonstrated a new TTS (Text To Speech) Solution - All Stations will be required to have TTS soon !

BTi and Interapt showcase Candidate News Tracker at NAB 2014


2014 - Bti showcases new mobile apps at NAB 2014 -- SEAL, EMU, LYNX, VOTE... and much more

2014 - Bti is in 11 of the top 12 broadcast markets; 17 of the top 20 groups; and many more in the top 200



********************************************



2013 The best year ever for BTi, thanks to all our new Customers and Partners.

2013 NAB, BELO, Standardizes on BTi

2013 BTi is selected as the Elections Leader

2013 BTi and Interapt form a strategic partnership to develop and deploy several Mobile apps

2013 Tribune / LocalTV LLC and more stations using BTi services



**************************************


2012 Young Broadcasting's WKRN Nashville has concluded an exploratory agreement with mobile data services innovator BTi.

2012 NAB... BTi Introduces Babble.

BTi has Apps and Widgets, allowing you to send to SMS and Smart Mobile Devices such as iPads, Tablets, Windows, Smart Phones...


Second Screen TV, Babble
Location Based News
Live Reporter Entry of Election results via a mobile device such as an iPad
Breaking News, to Mobile devices
School Closings, to Mobile devices
Severe Weather, to Mobile devices
Live to air Polling
SMS Breaking News messages live to air
Live Twitter and Facebook feeds to air with new Windows 8 dashboards



2012 Election Apps were added to many USA TV Station Groups such as Tribune, Cox, Belo and Nexstar, including WGN, KHOU, KCPQ, WUTR, WHAS, WTOV, and many more...

2012 NAB... Demonstrated live-on-air Texting, Twitter, Facebook, Apps... Interactive Social TV as extensions of our core products.